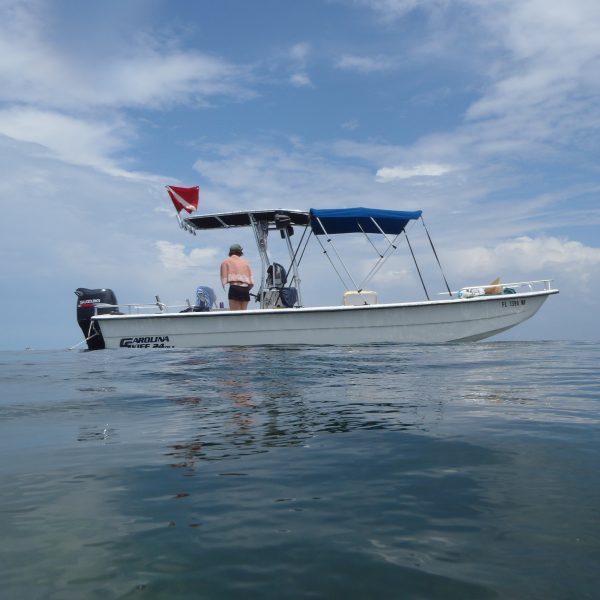 | | |
| --- | --- |
| Regular Season Rates July 5 – Sept 25 | |
| 1 – 4 people | $350 |
| 5 people | $435 |
| 6 people | $525 |
| Special Holiday Rates July 1 – July 4 | |
| 1 – 4 people | $550 |
| 5 – 6 people | $650 |
| | |
Rates include required fishing license.
RESERVATIONS ARE REQUIRED. Contact Capt. Russ at 352-212-6142.
Cancellation Policy: We require at least 48-hours notice by phone. Please keep in mind that scalloping season is short and the best days are limited. No shows will be charged. Tours an hour or more late will be cancelled and charged.
Scallop Trip Details
We want your scalloping trip to be fun and worry-free, so we handle the details, including:
Vessel and Equipment. For your day on the water, you'll enjoy the comfort of our Carolina Skiff, an ideal vessel for scalloping in the shallow waters of the Gulf. We do provide the mesh bags needed to hold the scallops as you snorkel. A cooler with ice stands waiting on the boat as you bring in your catch. (When we get back to shore, we'll even help you clean your scallops!)
Launch Location. We launch our scallop trips from a private location away from the traffic and hectic crowds of the public launch sites used by other scallop tours.
Licenses. As part of your scalloping charter, we provide the required state salt water fishing licenses, so you are covered when on a Native Sun charter.
Scheduling. Our available scallop trips are scheduled based on Captain Russ' observation of low and high tides  in the Crystal River and Homosassa waters. That way, you can snorkel in the best conditions possible.
Cleaning Your Catch. Since we are at a private launch location, paid cleaners are not available. Captain Russ will show you how to clean your catch and will assist you. If everyone joins in, it only takes a short time, so bring an extra beverage and have fun.
What You Should Bring on Your Scallop Trip
For a great day scalloping, consider bringing the following:
Your own cooler with beverages and snacks. We do provide a cooler for the scallops, but there's plenty of room for you to bring a cooler with your favorite food and drink items.
Towels and sunscreen (particularly environmentally friendly sunscreen). The boat does have a Bimini top, but sunscreen is highly recommended.
Gear. Due to the health and safety concerns of COVID19, all passengers are required to bring their own mask and snorkel. We also recommend you bring your own fins. We do have some adult-size fins available, if needed. Note that we do not have children's sizes.
Scalloping FAQs
Couldn't I just rent a boat to go scalloping instead of hiring a captain?
Boat rentals fees for boats that are allowed to travel to the Gulf are typically the same if not more than a private scallop charter. You also must purchase the required fishing licenses. Native Sun provides fishing licenses with your trip. Also, keep in mind that Nature Coast waters can be shallow and difficult to navigate. Fouling a boat propellor or damaging the vessel in any way can lead to a ruined day and hundreds of dollars in additional expenses. Scalloping should be fun, not stressful!
How is Native Sun different than other charters?
Native Sun has a successful history of offering scallop trips back to when the season re-opened. A veteran of local waters from Crystal River to Homosassa, Captain Russ has a deep knowledge of the area. In addition:
We do not cut your scallop trip short to take a second trip out.
We do help you learn to scallop if you've never been.
We help you clean your catch.
We inform you of the tide situation for the day, so we can optimize your experience.
I've never been scalloping. Is it hard?
Scalloping is surprisingly easy to learn. Even if you've never been snorkeling, you can learn quickly. At Native Sun, we'll help you learn, including how to spot scallops in the sea grass and the sandy bottom.
What do scallops look like?
Scallops are small mollusks that lay on the Gulf floor and look like this: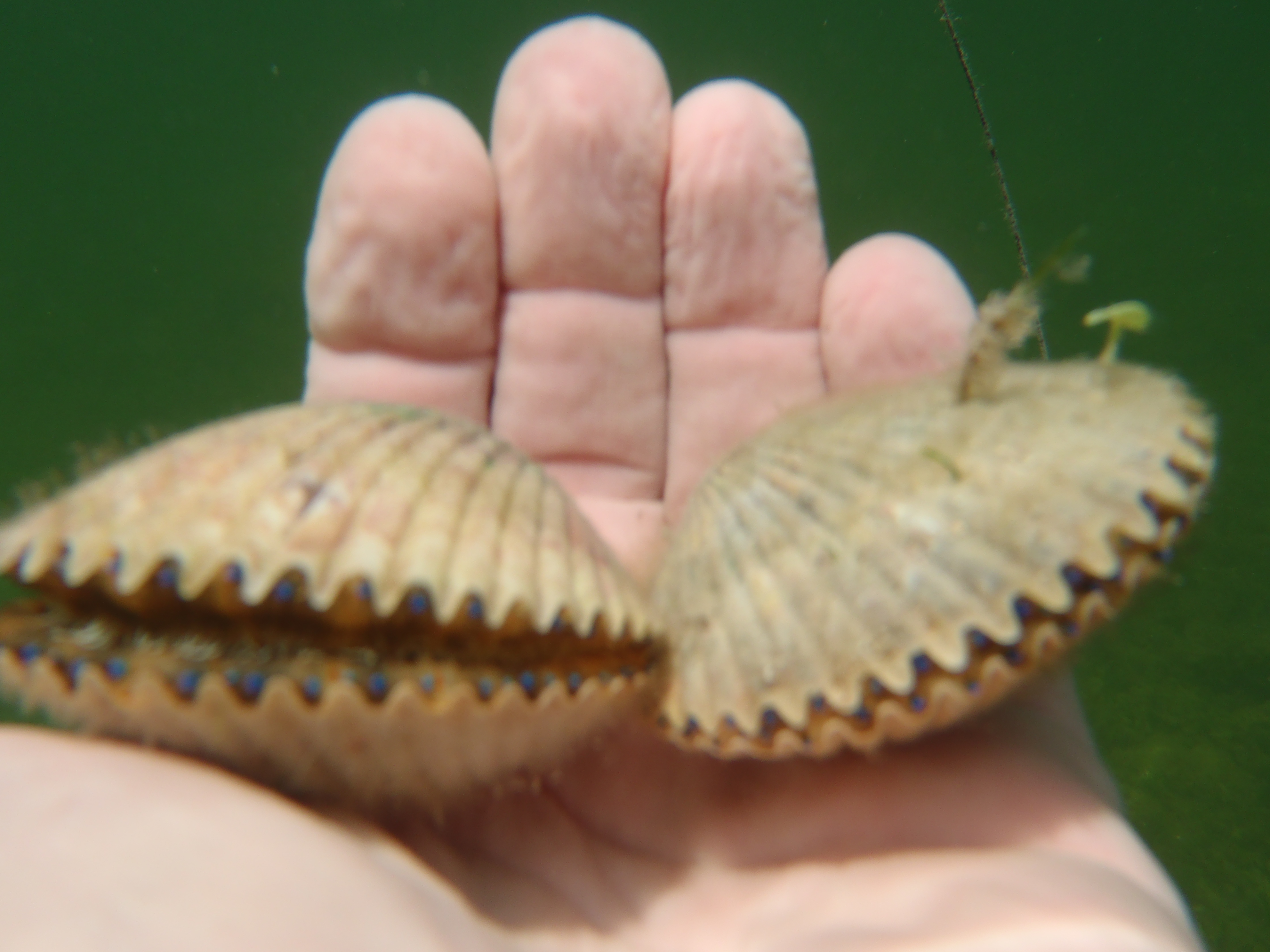 How long will my scallop trip last?
At Native Sun, we stay out until you reach your limit of scallops or you decide you've had enough fun for the day. Most trips last approximately 4 hours. Because we cater to one trip per day, your time is not cut short by a captain returning to make a second trip.
How many scallops are we allowed to keep?
The legal limit is 2 gallons per person or 10 gallons per boat. (Keep that in mind if the charter company is putting you with other people. Your take will be impacted by having other people included.)
Can we keep starfish or other interesting creatures we see while snorkeling?
Negative! We are in the St. Martin Aquatic Preserve and should be respectful of the environment.
TIP: Bringing an underwater camera is a great way to capture pictures of your adventure.
Can I bring dive equipment?
Dive equipment just isn't necessary and it's a little over the top for what we'll be doing – besides, snorkeling is fun!
Can we move to more shallow water once we're out?
Captain Russ can do that, but it doesn't equal finding scallops. He'll take you to the best place to find scallops with the water depth being dependent no the tide. It's usually less than 6 feet.
With that said, it's critical to depart at the scheduled times to take advantage of the best tide for that day. (Note that trips more than 30 minutes late can be affected.)